Left DC: Las Vegas Alternative Travel Guide
Las Vegas contacted me and asked me to showcase the truth about Las Vegas – how it is not even close to only being about gambling and neon lights anymore. Therefore, I figured they needed what I'd like to call the Las Vegas Alternative Travel Guide.
Vegas has always been a city bent on transforming at break-neck speeds. When one hotel goes up, another goes down, as the hotel owners toast to their latest successes.
But it's not all about the slots; studies have shown that millennials only gamble an average amount of $20 in Sin City when they visit.
Read on and I'll clue you in on the one-of-a-kind hospitality of Vegas, the distinctive things to do, and the friendliness of the locals.
DAY 1: 
Check-In: NEW YORK NEW YORK – A hotel touting a funky vibe all around, this property features a large commons area that comes especially alive in the evenings. Bars, restaurants, and dance clubs dot the corridor, so if you feel like keeping the fun going after returning to your hotel room, just head downstairs. Furthermore, this hotel even features a roller coaster that takes you on a journey throughout the large property.
Day 2: 
Wake Up and Eat: 48th and Crepe – As your advisor, I recommend you start your day here, so head downstairs into the commons area and locate 48th and Crepe. Who doesn't like crepes? They're like an empty canvas of thin dough that you can paint with the ingredients of your choice in the form of salty or sweet. The sausage. The eggs. The cheese. The tomatoes. The mushrooms. The bechamel sauce. The hungry look on your face.
Next Stop: The Mob Museum and Speakeasy –  Swing over to this museum and you will learn how Vegas and the mob took control of the city in a three-floor walking tour of pure history. Afterward, enjoy the basement's Speakeasy, a place specializing in the collection of prohibition-era drinks served to you in ways similar to how they were when alcohol was illegal and the mob ran Vegas' booze show. This is a destination you do not want to miss. Because if you miss it, well, the museum might have some beef with you. You don't want beef with the museum. Trust me….
I met an ex-mobster in the restroom here. He wore a fedora and was bound to a wheelchair. Outgoing and happy to introduce himself, he told me where to find the best chicken fried steak in the city. I didn't even ask. He then asked for my assistance in lifting him up out of his wheelchair and upright to the urinal. I didn't want any beef with him,  so I hoisted him up from below his armpits so he could do his thing with the urinal. Still to this day, however, I wonder why he didn't use the handicapped stall. Look. If the mob needs your help, you help them. I'm a nice guy like that.
El Cortez Hotel – Downtown Las Vegas' historic gem hotel is an original representation of the downtown. It is the longest continuously running hotel and casino in Las Vegas. Take a step inside and warp back in time to when the city was still in its primitive years. You'll encounter a staff who will go the extra mile to serve you as well.
I got a tour of one of the El Cortez's suite hotel rooms, which was a room I would have loved to stay in if I weren't already staying in New York, New York. When I saw the shower, I noticed how large it was, and my tour host commented on how it would certainly be enough room for up to eight people. Mine and my wife's eyebrows spiked upwards as we threw bewildered glances each other's way.
Hungry: Dinner at Black Tap in Venetian – The Black Tap specializes in craft burgers and what they call shakes that literally have a piece of cake sitting on top of the cup – it's completely out of control but it could be worth the social media photos. Also, try a burger on the menu. However, I'm not sure you'll have room for the burger after a shake with cake on it. Oh well! What happens in Vegas stays in Vegas!
Day 3:
Do It: Dig this – Ever wanted to change careers and become a construction worker? No? Why not? Well, at Dig This, You can play with construction equipment such as bulldozers and excavators! Sounds wild, right?
Get in the driver's seat and operate these behemoth machines and pretend you're doing nightwork on I-95 and actually making progress so that Washingtonians can get to work faster and improve their quality of life.
Dig This has been rated #1 on Trip Advisor for things to do in Las Vegas, so you can be certain playing with this dirt will be a rewarding experience. Just think, this ingenious idea was born from owner Ed Mumm once renting an excavator for his backyard and literally enjoying it so much that he invited all his friends over to have a shot at it. I hope Ed and his friends weren't drinking at the time. Disclaimer: Don't use machinery after having alcoholic beverages.
Hunger Strike: Lunch at Four Seasons – Have lunch outside at Veranda at Four Seasons. The outdoor courtyard takes in the mild climate over a meal you won't soon forget. The mimosas are a standout drink option and fit the environment's tranquility oh so well.
Relaxing time: Hotel Room – Head back to your room at New York New York and prepare yourself in any way possible (nap, shower, shopping in the Commons area) for what comes next.
Dinner: 7th and Carson – In the Fremont neighborhood of Vegas lies a tiny yet modern spot that was Nevada Restaurant Association's 2018 restaurant of the year. Owner Liam Dwyer is hands-on yet humble as he helps to facilitate succulence. Having a meal at 7th and Carson is a perfect blend of relishing a good drink alongside splendid meal options taken to the next level of what we eaters already know and appreciate. Therefore, when it comes to dining out, only the best will suffice.
Note: You can't miss their version of the Pan Roasted Chicken Breast. In fact, you can't miss most things on the menu or you're doing your life a disservice.
Day 4:
– Check out of New York New York and check into Wynn Las Vegas
Check-In: The Wynn Las Vegas: Assuming you've pre-booked your stay at The Wynn, all you need to do is check-in and leave your bags with the attendants, and hit the city until actual check-in time in the early afternoon. As one of the hotels built to impress in Vegas, you'll feel the glory of floor-to-ceiling windows with automatic curtains opening to the neon and vibrant skyline all around you.
Must Do: Lip Smacking Foodie Tour (Brunch) – It simply needs to be done. Be sure to schedule your reservation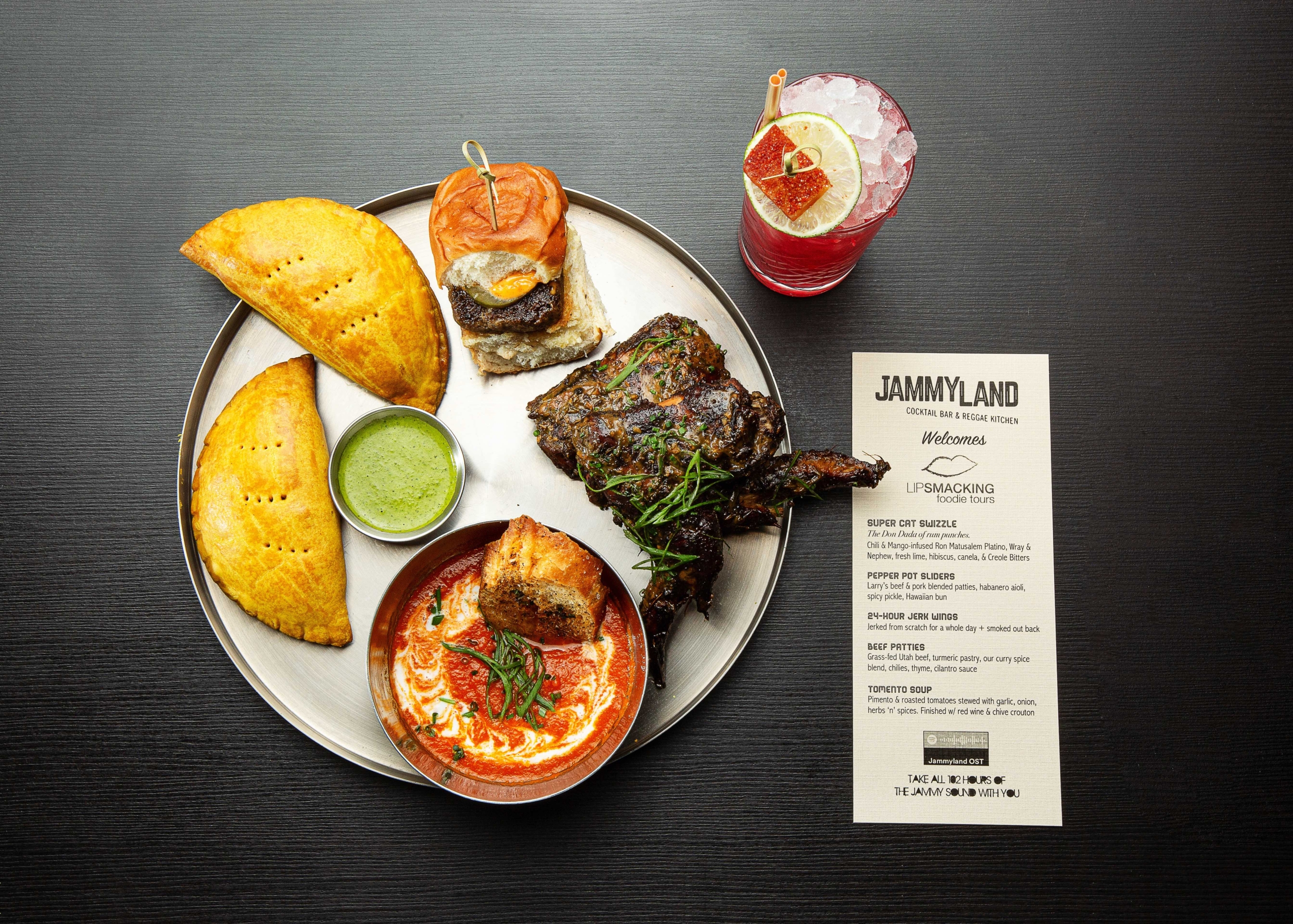 days in advance. You'll attend three separate restaurants for brunch with short walks in between each. The tour is led by a knowledgeable spokesperson, and sometimes even former chefs themselves. So, how is this possible for your stomach to handle three stops for brunch? Easy! Don't overdo it at each location.
You may encounter, but certainly not limited to, freshly squeezed watermelon juice, custom roasted sliced meats, crisp fruits and vegetables, tasty French toast, and boozy morning drinks to wash it all down. For the Vegas culinary wisdom and yum factor, this is two forks up.
Go on a walk – Take some time to explore on your own. If nearby the Bellagio, peek inside this marvel of a hotel. This is a good idea for you because I'm guessing you've got to burn some calories right about now.
Back to The Wynn – Time for some downtime. Enjoy the elegant room some more. Prepare and pamper yourself for dinner this evening downstairs or on the town (place a reservation).
Dinner – You're free choice. I've been sending you everywhere thus far, so I'm sure you can find a suitable enough restaurant.
Enjoy the evening at the Wynn – If you didn't stay out too late at the restaurant of your choice, then feel free to pull a few slots in The Wynn's commons area. It's arguably the classiest slot-pulling environment in Vegas. Though I'm not a huge proponent of slots, perhaps a few dollars spent in a nice environment will yield you a few bucks. But probably not. Hey, you gotta live!
Day 5:
Breakfast or Lunch at Vegenation – A vegan restaurant for breakfast or lunch. Even if you're not a vegan. I tell no lies. Highly accomplished former New York City chef and owner Donald Lemperle began his plant-based diet in 2005 after a health diagnosis that changed his life. Now, his menu and creations are changing others' lives and points of view on vegan food in general. Try the buffalo cauliflower wings appetizer or the Chicken (not chicken) and waffles. A cheeseboard (not cheese) is incredible and not to forget the fan favorite stuffed French toast. Chef Don, come to Washington and open a branch here! Can you hear me hollering from the steps of the Lincoln Memorial!??
Walk to Writer's Block – After you finish at Vegenation, put on your intellectual glasses, grow a literary mustache, and walk to The Writer's Block bookstore, which isn't far away. It's always nice to take a stroll after a meal as a bookstore is certainly a decent destination for digestion.
This exceptional independent bookstore comes in tow with a coffee shop and an imaginative feel that will inspire you to linger for hours as you search for your next great read. After a couple of hours strolling the aisles of stories, you might feel inclined enough to pen the next great American novel. Hint – don't start your great American novel with "It was a dark and stormy night" or "Her teeth were as yellow as gold". This isn't good writing. Stop, John Steinbeck junior, stop.
https://www.thewritersblock.org/
Explore Downtown Container Park – Uber on over to a shopping area built out of shipping containers. It's funky, and eclectic and has enough amusement to explore and grab a snack. Container Park has single-handedly encouraged me to want to live in a shipping container home. But, again, my wife has concerns and I will not win.
Her: I don't want to live in a container.
Me: It's not like that, sweetie. A lot nicer.
Her: They're called "shipping container homes".
Dinner at Ferraro's Italian Restaurant and Wine Bar – The Ferraro family has run this Las Vegas landmark since 1985 and there is no disappointment in sight here. With rave reviews constantly trickling in, and an osso buco beyond what you've likely had before, you're likely to consider applying for Italian citizenship in hopes of being rewarded with VIP membership at this goldmine of an eatery. Note: Ferraro's Italian Restaurant and Wine Bar does not offer you any benefits for gaining Italian citizenship.
Back to Wynn – Time to return "home" and plop on the bed and recharge for the next day.
Day 6:
Eat at Coffee Cup Café – You'll need to take an uber or your car 30 minutes up the road to Boulder City, NV, which is absolutely worth the drive. By and large, it is a community once populated by the workers who built the Hoover Dam.
This picturesque mountain town offers some of the best diner-style food I have come across in years at Coffee Cup Cafe. Literally, everything on the menu is above average in this department (especially the burritos). Personally, I believe the residents of Boulder City are keeping this place incognito and to themselves, which is a federal crime in my book so we need to go ahead and send the feds there to arrest them in the kitchen.
Flightlinez Bootleg Canyon – I was forced to go ziplining across a canyon. The wind battered my face as I swooshed across the desert mountains like a ravenous vulture looking for recently hit roadkill. What's more, I have a fear of heights, but once I accepted that there was nothing I could do and that my wife thought it was funny to watch me, I began to enjoy the experience. If ziplining is for you, then this is one of the best, as the staff is helpful, trustworthy, and funny.
(At the moment of this publication, Flightlinez is temporarily closed but plans to reopen in the near future. Please check their website for updates.)
Oscar's Steakhouse – Located in the dome of the Plaza hotel in the old Las Vegas area is a steakhouse worthy to be praised. It is named after the former mayor of Vegas, Oscar Goodman, who also happened to be a mob attorney. The steaks here are aged and prepared over a 600-degree grill. Basically, the mob enjoyed having dinners here back in the day. And now, you can too!
Just don't complain to the manager here. Ever. You know the drill.  Did you read my segment above at the Mob Museum? You don't want beef at a mob steakhouse. I mean, you want beef if you order steak, yes, but you don't want beef WITH the team. Get it? Oh God, I hope I am making sense.
Return to Wynn – You had a long day so you deserve some rest.
Day 7:
Leave – Finally, it was good while it lasted. Sayonara and goodbye, now you feel like you have been baptized in the buffets and the binge-everything of Las Vegas.