Road Trip Safaris: From Luxury to Loss
At the beginning of November 2021, my wife and I decide to initiate a road trip across America that would unknowingly change our lives. Yes, I will check out some swanky hotels in Colorado, but what happens on the return drive home sticks with us forever. Being a road warrior, I can drive for a dozen hours before thinking about sleep. Yet, I was not warrior enough for what was to come. We pack the car. My wife overpacks. I under pack. She brings multiple coffee maker machines. Yet, I forget my toothbrush.
Louisiana
Anything of interest started as I drive from Baton Rouge, Louisiana toward Lafayette, where I take the Atchafalaya Basin Bridge (Interstate 10) over Atchafalaya Basin Swamp, which is over 18 miles long. The bridge is narrow, and it wouldn't be too difficult for a car accident to end submerged in the swamp fifty feet below. As I cruise the bridge, I take peeks at the waterways beneath and can occasionally spy alligators cutting through the tips of the water, heads only exposed. Certainly, to take an airboat ride in this area would be exciting.
Texas
At the request of my wife, we stop in Waco to visit all things Chip and Joanna Gaines of HGTV's Fixer Upper fame. We visit the Magnolia Market on 601 Webster Avenue, which is a market bursting with shops plus a park, all tucked into a compound behind historic twin silos. Since we are in Texas, we eat Frito Pie, which at the market is called "Gaines' Family Favorite Frito Pie". After I scoop this delicacy of corn chips, chili, and cheese into my throat/arteries, I thanked the Gaines family in silent prayer.
Why would I thank the Gaines family for their Frito Pie recipe? Because I now have experience with two other Frito
Pie's in Texas over the last 24 hours. One establishment simply rips opened a bag of Fritos, dumps it into a Styrofoam cup, slaps spoons of canned Hormel dogfood chili atop, and crowns it off with that dreadful nacho cheese from the machines at 7-11. So, thank you, Chip and Joanna, thank you. Undoubtedly, this road trip across America is panning out.
https://magnolia.com/visit/shop/magnolia-market/
The next day we drove 6 hours north to Amarillo, which is a town that smells like cow dung. Everywhere. It's because of the cattle, but if I lived here, I'd be wearing a gas mask just to grab lunch at Chipotle. Besides, I did not even allow my wife to roll the car windows down for pictures.
My mother grew up close to a paper mill so anytime to this day when she smells a paper mill in the vicinity, she rolls her car windows down and inhales the air like it is Febreze and says, "MMM, wow, don't ya just love that aroma?" and I say no.
Amarillo does have Palo Duro Canyon State Park, which is an underrated state park of sheer beauty. It is also the
second-largest canyon in the United States, behind Grand Canyon. This place doesn't seem to belong in Amarillo, but it exists, and it sure is special. Additionally, camping is available at Palo Duro Canyon State Park.
Colorado
Our hotel is situated over 10,000 feet high and the views are endless. Snow-capped mountains wrap around us and the air is organic. We enjoy some tucked away time in the mountains. Our hotel has built a culture around wearing your room-appointed robe throughout the resort, so we take our robe-wearing selves down to the grotto or outdoor Infiniti hot tub in the freezing weather. All of the people are wearing smiles on their faces. For many, it is a vacation of a lifetime. Evidently, everything is at peace.
Vail
I slide 30 miles down the road and through mountain passes to Vail, a town situated in a narrow valley where wealthy skiers from around the globe come to sample the slopes. You can feel the affluence of the skiers and the
residents. Then, I come to find out that close by our hotel room is the primary residence of the lead singer/guitarist of world-famous rock band Metallica, James Hetfield, a $27 million mansion directly on the ski slope. Consequently, I drive by it to grab a photo for some fan friends of mine back home. Regardless of whether you are a fan of Metallica or not, there is no denying the influence they have had on metal music around the world. They are pretty much the heavy metal version of The Rolling Stones.
Kansas City, MO
My unpopular opinion is that Barbecue isn't mastered in Kansas City, it just carries an abundance of barbecue establishments. Conversely, I realize that there are indeed a handful of barbecue joints in KC that make the art of barbecue proud, but they are lost in a river of endless options. When one does a google search for "bbq near me Kansas City," too many choices populate.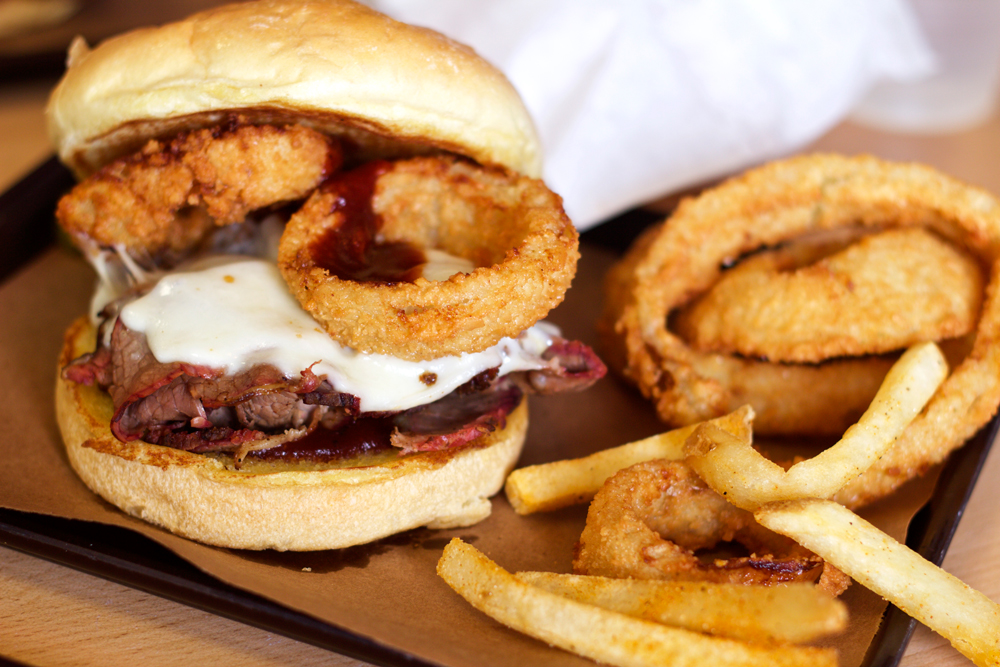 I've tried five barbecue options in KC by now, and only Joe's Kansas City Barbecue did the city justice. The other four (I won't name them) are highly rated but highly disappointing.
Other than bbq, Bibibop in Overland Park, KS (a small chain based in Columbus, OH), is a Korean-inspired fast-casual bowl concept, and it fulfills my cravings for loads of fresh vegetables and bulgogi steak, without making me walk away from the lunch table feeling like I need to take a two-hour nap. Surely, this road trip across America must continue.
St. Louis, MO
We visit the St. Louis Gateway Arch, which is now run by the National Park system. Thus, we take the journey to the top of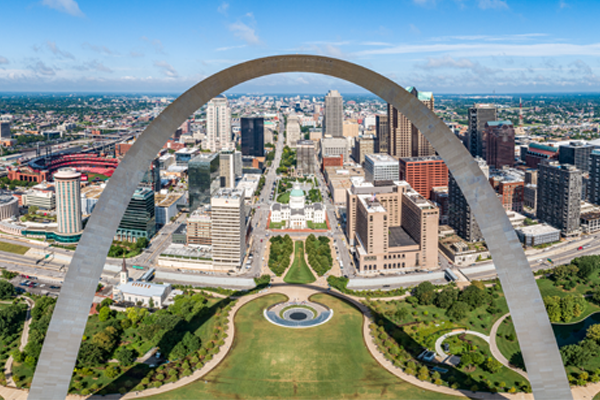 it. The employees at the base of the Arch have us take a seat inside a white, tiny Jetson's-like space pod and this
gives me claustrophobia. Any person over six-foot-tall will notice this. It is a five-minute ascent to the top of the Arch, and then we enter a long and narrow room with small windows peering over the city. The symbol of the gateway arch is special in that it is considered "The gateway to the west". It is sunset, but we can't tell, as clouds form all around us, making visibility from the arch low.
Marion, IL
This is where the road trip begins to take a turn. I notice the wind to be somewhat robust as I drive from St. Louis to a hotel room in the tiny town of Marion, IL. I can feel my car being pushed around the road slightly, but I do not think much of it.
There are flashes of lightning in the distance but that's not worthy of having me pull over to the side of the road. Finally, when I step out of my vehicle, the wind feels unusual. It is not strong yet nowhere near a breeze as it rushes through my hair. These are the plains states; however, something isn't quite right. This peacefulness is odd.
When I wake up in the morning, I receive the news that tornadoes touched down and devasted many locations, particularly Mayfield, Kentucky, which was hit the hardest. We are only 1 hour from Mayfield and we decide to visit the town and try to help, if possible.
Mayfield, KY
It is December 11th, 2021. The only thing I could attain what I saw in Mayfield, KY to was "Hiroshima".
Lives are lost and other lives are still buried beneath the rubble someplace, hoping for a rescue. Furthermore, first responders, the National Guard, and journalists like myself are everywhere among the onlooking residents of Mayfield.
The entire downtown plus neighborhoods are wiped out of existence. Metal from roofs twisted around tree trunks like children's shoelaces. White bedsheets hang from surviving tree branches like a flag of surrender. This town now looks like a junkyard. There is a sense of defeat and perseverance in the air concurrently and I can't grasp the fact that fifteen hours ago, a 300 mile per hour tornado ripped this city of lives, families, jobs, and safe-havens.
Moreover, I look up to the sky to see odd cloud formations, like a quilted blanket, stretched out across the horizon in a way I have never seen. This blanket looks like a trail the tornado may have followed, and it hovers above the city all day long. Meanwhile, the sun shines happily down upon the ugliest of what mother nature can do.
End of the trip
My wife and I arrive home, changed, blemished. Not only has our road trip concluded but new, healthy fears are born. No longer will a severe storm be taken lightly by us. Why? Because one day, if we live in ignorance toward truly dangerous things, these dangerous things could catch up with us. When you accidentally witness first-hand a natural disaster performing at its peak, you feel the power of how this can truly happen to anyone at any time. Therefore, they become less of a fictitious thing.
So, while our road trip across America was a culture tour full of good times and luxuries, it also included a dismal lesson in the fleetingness of humanity. It helps us keep humble; do travel, do enjoy, do enrich your lives now, and be grateful for the love and comforts we can have because they aren't promised to any of us tomorrow.
A road trip across America