Delicious Cheat Day Meals
Life. You work, go to the gym and complain about not being able to eat whatever you want. We're all human and sometimes sticking to the same regime of chicken and broccoli gets old, very old. Luckily, the days of Taco Tuesdays, Waffle Wednesdays, or Thirsty Thursdays are right around the corner for you to treat yo-self.  Who doesn't look forward to the day where you can eat whatever you want and not feel guilty. Allowing yourself a weekly cheat meal helps curb those pesky cravings and gives your metabolism a needed boost! Below are some must-haves, with recipes, for enjoying your most anticipated weekly treat!
Anything Chocolate
Words of advice, never trust anyone who doesn't like chocolate. Aside from making the world go round, dark chocolate has been said to be good for your blood and keep you full longer. Sounds like a chocolate binge coming your way! Just imagine curling up to a warm, semi-sweet chocolate 'Thick n 'Fudgy' explosion cookie by The Baking Chocolatess with a tall glass of ice cold milk; sounds like someone is on the fast track to savor the city.
Give them a try http://www.thebakingchocolatess.com/thick-n-fudgy-chocolate-explosion-cookies/
Anything Cheesy
Being called cheesy isn't necessarily a bad thing when it's followed with a quesadilla. This Mexican meal can be made sweet, savory, and or healthy; the quesadilla is your oyster. A personal favorite is the BLT Quesadilla by Macheesmo, the recipe is super easy and…well bacon, duh. A combination of salty bacon with jack cheese and fresh tomatoes makes for a sinful cheat meal. The hardest part of making this dish is teaching your friends how to say quesadilla vs. quay-sa-dill-a.
Enjoy here: http://www.macheesmo.com/blt-quesadillas/
Anything Pasta
This classic fettuccine alfredo recipe by Erren's Kitchen is simple to make and delicious. This dish calls for 3 ingredients; cream (yes), butter (heck yes), and Parmesan cheese (hell yes). Some might worry this meal is a little carb heavy, but others have suggested it gives a boost for your next workout. Either way, are you going to be strong enough to honestly turn down fettuccine alfredo? –didn't think so.
Impress the friends here: http://www.errenskitchen.com/fettuccine-alfredo/
Anything Sushi
Somewhere over the rainbow…sushi roll that is. For all the raw/ steamed fish lovers, Rainbow Rolls, California Rolls, and Sashimi are just some of the items featured on your cheat worthy menu. The sodium and carb ratio is a bit higher, but it isn't often enough to make a dent in your workouts. If you have the patience to make at home, bravo! For everyone else, leave it to the professionals—it's guaranteed fresh, quality sushi grade, and delectable.
For those who have patience, the recipe is here: http://www.brit.co/how-to-make-sushi/
Anything Beefy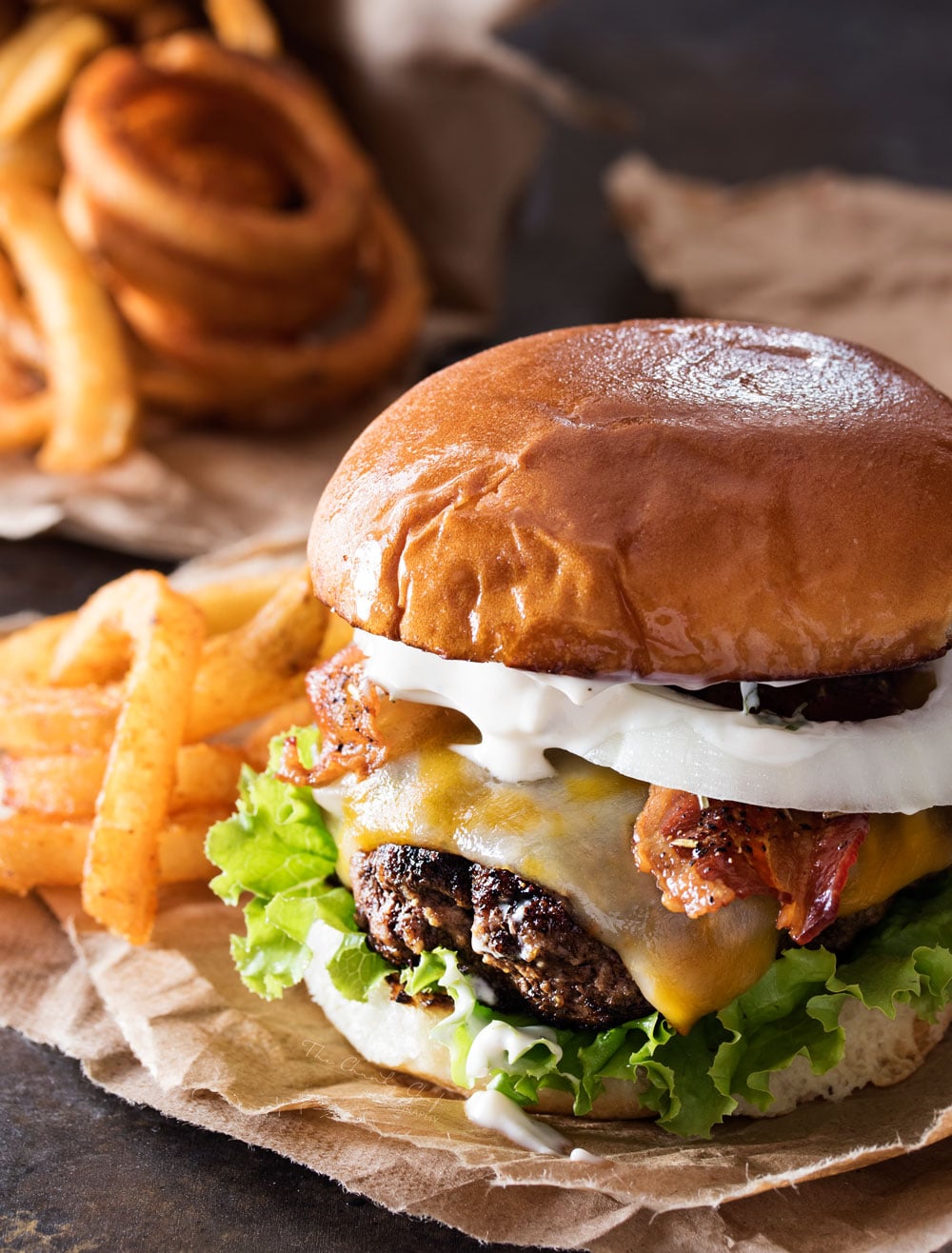 Remember before you dedicated your life to the gym and eating right, how much you craved a burger? SO. GOOD. This recipe by The Chunky Chef features a crusted black pepper beef patty with garlic aioli and, again, bacon. The key to this great burger is a cast iron skillet. It's hard not to resist this mouthwatering dish, as it is packed with protein, complimented with fries, and satisfies all cheat meal requirements.
Your greasy chariot awaits: http://www.thechunkychef.com/pepper-crusted-bacon-cheeseburgers/
Here are some suggestions, but whatever you decide to eat, make it tasty. You earned it!
SaveSaveSaveSaveSaveSave